Broadband Network Overview
Voipfone is a development company as well as a retailer. We spend 13% of our gross income on R&D every year and hold the Queen's Award for Enterprise for our investment and success in innovation. We build high quality networks and services that are reliable, resilient and value for money.
The goal in designing the Voipfone broadband network was to offer a very reliable service that complements our business-oriented VoIP products. To achieve this, we were the trial Communication Provider for BT's new WBMC Telehouse 1Gbps Handover product in 2016.
Voipfone Broadband Services From Only £22 Per Month
Voipfone business broadband services are capable of providing speeds of up to 55 Mbs down and 10 Mbs up and are engineered to work perfectly with our voice service. Our broadband network is configured to prioritise voice traffic over all other media so you will get the best possible voice quality regardless of whatever else you use your broadband for - if you use our telephony service you will get the best out of it by using our broadband service too. Because our broadband connects you directly into our telephone network we're totally in control of its performance - you are not using the public internet to make your telephone calls and there's only us to talk to if you have a problem. Like all our services, our broadband is 'no contract' - you may leave us at anytime - we don't have silly short-term offers that lock you into long-term high price contracts.
FREE Pre-Configured Broadband Router

Our FREE broadband router is specially pre-configured to work with our telephone network straight out of the box, all you have to pay for is the postage and packaging. Additionally, many, even most, routers have difficulty supporting multiple simultaneous telephone connections because they have insufficient processing power or poor VoIP handling firmware. Our router remains fully stable even with dozens of phones connected so you can be sure of a reliable service.
What Speeds And Packages Can Voipfone Offer Me?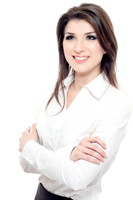 With Voipfone, we don't present you with lots of confusing packages that promise line speeds that you are never going to be able to achieve. Our system will find the best packages available to you as well as give you estimated speeds so you can be sure of what you're buying and what you can expect to get for your money. To find out what typical speed and packages are available to you in your area and on your telephone exchange enter your BT telephone number or postcode in the box shown below. Don't worry, we won't use your number for any other purpose and we don't keep it or pass it to third parties. Please Note: There is a £30 cancellation fee which is the BT charge to us.