Setting Up Call Forwarding
You choose a number and it is held on our network. We then send all calls to that number to the number you have supplied – usually your mobile or landline. There is no delay; your caller doesn't know that your call is being diverted.
You can change the divert number anytime and as often as you like without cost. If you turn the divert off, your calls will go to Voicemail. Your voicemail is converted to a sound file and sent to your email or you can listen to it online (all free).

Voipfone Call Forwarding And Divert
You can send your incoming calls to another telephone number anywhere, any time you like and as often as you like.
Many new businesses use this feature to divert their calls to their mobile or landline so that they don't have to ask BT for a new telephone line. You don't need to buy any hardware to do this or even have a broadband connection - it's handled by our equipment, not yours.
We can do much more than this though - you can set diverts to go to your voicemail when you're busy or if you're already on the phone talking to someone. You can display which of your numbers was called and name them – it's up to you how flexible you want it to be.
When you're in your office you can cancel the divert and answer calls directly using a VoIP telephone. You can call out using it too – it's all very flexible.
Displaying Names And Numbers
Because you'll be diverting calls from your new number to a telephone you possibly use for domestic or social purposes, or because you have several businesses all calling the same telephone, it's useful to know which number was called so that you can answer each call properly.
You can manage all this easily by using a service called 'Line and Number Presentation'. Using this feature of our virtual PBX we can send you the telephone number or the name of the company that has been dialed by your caller so you always know how to answer. There are many combinations; you'll find one that can do just what you need.
What Does it Cost?
 
Diverted calls are charged at our standard rates. It costs 1p per minute to divert to a UK landline, 1.5p pm to most of the Western world and 10p pm to a UK mobile. We charge by the second with a minimum call charge of 1p.
You can have any kind of telephone number you like and as many as you like – most numbers cost £2 per month.
The Line and Number Presentation is a feature included with extensions from the virtual PBX. Extensions cost £1 per month.
All prices are ex VAT.
How Do I Get Call Forwarding And Divert?
 
These are standard features of all our telephone numbers, so you just buy a number and go to the configuration page in your control panel to set them up.
If you need to display the names and numbers of the numbers your caller dialled you also need to buy a telephone extension from our PBX.
You can also set a failover call divert so that in the unlikely event your unregisters our systems will detect the unregistration and automatically divert all your calls to any number of your choice.
Got a question?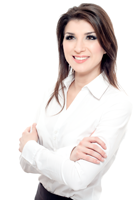 Speak to a Customer Services Representative
Voipfone can seem very confusing at first, but don't worry, this is quite normal and we are here to help! One of the great strengths of VoIP is that it can do so much more than an ordinary telephone network whilst costing an awful lot less. In practise Voipfone's services can be as simple as making a telephone call or as complicated as using a large business switchboard in several countries but anything new takes a bit of getting used to so if you have any questions please feel free to give us a call on 020 7043 5555