Voipfone Number Ranges
With Voipfone you can take your pick of UK telephone numbers, and we give you an 056 number for free. With all our numbers you can call anyone in the world on any telephone network and they can call you, often for free, always low cost.
Our geographic numbers can even make you look like you live or work anywhere in the UK so that if you live in Basildon or Barbados you can still have a London or any other UK regional number.
Not only that, you can do all sorts of clever things with them like divert incoming calls anywhere, call other Voipfone users for free no matter where they are, use Voicemail and have it sent to your email, receive a fax, add extensions - it's a long, long, list and most of it is either free or very low cost.

Transferring (Porting) Your Telephone Number To Voipfone
We can transfer almost any number including BT, Sky, TalkTalk, Virgin Media, both Geographic starting 01 and/or 02, as well as Non-Geographic 03 and/or 08 etc. onto our service.
We can also port most AQL, Gradwell, Vonage, Sipgate, IPC and Voiptalk and some Skype numbers and numbers from other UK VoIP providers that are members of ITSPA, the UK trade body for VoIP.
We can sometimes port others too - please email porting with the number to see if we can.
Please note: In the case of landline numbers, when you port your number to us your line will cease on the day of the transfer. If that line also had a broadband service on it, it will also cease (and, to rub salt into the wound, you may be still liable for the remainder of the contract). Plan carefully if this is your only internet connection. You may need to consider installing a new (line and) broadband service before porting your desired number. At the moment BT does not allow you to have purely broadband internet without renting at least one telephone line too.
Here's a handy checklist:
The number is in-service.
You're happy for service to end on the current line/number, including any broadband service if provided over the same line.
If redcare (an additional Fire/Intruder Alarm Security Monitoring Service) is on the line this needs to be ceased, and the order completed, before you start the porting process. If needed you could move it to a different line.
You have not placed an order with the current provider to cease or stop the line, as the porting process is designed to do this for you – although it's worth checking the next bill from the losing provider to make sure they don't bill you beyond the date of transfer (if you cancel your rented line service before the porting date you may lose the number).
If you wish to port a number; this is the process:
What We Will Need From You
1. A completed number porting request form:
Voipfone Porting Form XLS
Voipfone Porting Form PDF
2. A signed letter from you, asking us to port – stating your Voipfone Account Number and confirming the number(s) you'd like us to port
3. A copy of your telephone bill showing your name address and telephone number (so we have proof it belongs to you)
Once complete please return all 3 of these by email to porting@voipfone.co.uk or fax to 020 7043 5556.
Number porting takes around 2 weeks to be completed on average, but it can vary between 7 to 30 days depending on the type of line you have.
The process costs £20 (plus VAT) per number for the first 5 numbers. Any additional numbers over five will be ported free of charge, so long as they're from the same provider and part of the one application. If the numbers are with different telephone companies then additional charges will apply, but don't worry we'll explain all this in detail when you apply.
Once on our system, you will be billed by us at the rate we normally charge for the type of number you ported. For example a geographic number costs £2 per month.
Other Number Information
For both Voipfone numbers and any numbers ported to us, if in the future you need to port any number(s) away to a different provider, there is a fee of £20 + VAT to cover the work involved of dealing with the gaining provider and reprogramming our network so that calls route correctly to the (new) gaining provider.
For traditional landlines, when completing the porting form, the Original Installation Address should be used. This is where the service was first provided, (for example, before any premises relocations if you moved and kept the same number) and with the details that BT/Openreach first used. The Original Installation Address can sometimes have slight variations on building names and postcodes to what Royal Mail would consider to be correct. If in any doubt, it is worth contacting your existing provider to be sure – as any rejections lead to delays, and a £10 + VAT rejection fee.
In very rare circumstances, the Original Installation Address to be used is the numbers' Telephone Exchange. For example when relocations have taken place, and the new premises are served from a different telephone exchange to the original premises, the only option (at that time) to keep the same telephone number(s) was to take out a Remote Call Forwarding or Admin Controlled Call Forwarding type service. In these situations, the circuit was essentially ceased at the old premises, and 'installed' on special equipment at that numbers' Telephone Exchange.
Got a question?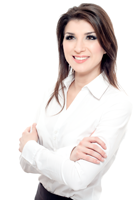 Speak to a Customer Services Representative
Voipfone can seem very confusing at first, but don't worry, this is quite normal and we are here to help! One of the great strengths of VoIP is that it can do so much more than an ordinary telephone network whilst costing an awful lot less. In practise Voipfone's services can be as simple as making a telephone call or as complicated as using a large business switchboard in several countries but anything new takes a bit of getting used to so if you have any questions please feel free to give us a call on 020 7043 5555