Voipfone Mobile App
Our free app for iPhone and Android allows you to easily set diverts to your mobile or top-up your account while on the go.
In addition, our innovative GeoDivert® feature automatically diverts calls from your Voipfone telephone number to your iPhone or Android when you move away from your normal location.
To read more about our Voipfone Mobile App please click on the button below.

Making Cheap Calls To Mobiles

The most obvious way to cut the costs of calls to mobile phones is to dial them using Voipfone. You can call any mobile phone in the world at our standard low prices.
You can find out how much these calls cost by clicking on either the Call Cost Calculator or the Voipfone Calling rates boxes on the web site. Please remember that to call a mobile phone you need credit in your top-up account.
Of course you can make low cost calls from your mobile to other mobiles as well - just read on.
We have 4 products to suit the type of contract you have with your mobile phone company and the situation you are in.
Mobile Call Link (for contract mobiles with included minutes)
Free Access Call Back (for Pay-Go mobiles and for international calls)
SMS Call Back
Free 0800 calls from your mobile
They are all very clever little products that will save you a lot of money.
How Does It Work?
First you must register your mobile phone(s) with us. This is free. (Not required for the 0800 service). To do this enter your mobile number(s) on the Manage Registered Phones page.
Once registered, you can call or SMS (text) our special access numbers to connect to any telephone, fixed or mobile, anywhere in the world and you will only be charged at our standard low prices.
Because the call to our access numbers are either free (Call Me Back) or included in the price you already pay for your mobile rental (Call Link) they cost much less than normal.
Got a question?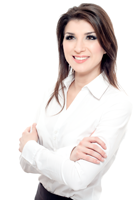 Speak to a Customer Services Representative
Voipfone can seem very confusing at first, but don't worry, this is quite normal and we are here to help! One of the great strengths of VoIP is that it can do so much more than an ordinary telephone network whilst costing an awful lot less. In practise Voipfone's services can be as simple as making a telephone call or as complicated as using a large business switchboard in several countries but anything new takes a bit of getting used to so if you have any questions please feel free to give us a call on 020 7043 5555