Voipfone Plug And Go Hardware Products Networking Equipment And Accessories

To get the most out of Internet telephony, particularly if you are using it for business, it's best to use the new generation of VoIP (SIP) telephones or for the home user who does not require the features and functionality of a hardware phone, we would recommend a VoIP adaptor we also offer a range of networking devices and accessories such as headsets and network swicthes.
They don't need your PC to be switched on or use PC resources and they deliver higher voice quality with more functionality than softphones.
We are a Service Provider - not just a retailer - so we only sell equipment that we know works well with our network and our range of Plug & Go Hardware Products is guaranteed to work with the Voipfone network 'straight out of the box'.
All our telephones and adapters are pre-configured with UK ring and dial tones, our own optimum network settings and your user account details – so you should be able to just plug them into your home or office network and and start making calls straight away.
Once installed, all our equipment is auto-provisioned; this means that we can remotely adjust its setting to keep it up to date or perform remote diagnosis and maintenance if required; this ensures that your hardware is running at its best all the time.
Unlike some service providers who lock their telephones and adapters, you can change our configuration if you wish and it will work with other providers.
Because we pre-configure your device with your own username and password plus all the Voipfone and UK phone settings before we send it to you, your packaging will have been opened.
More information about snom SIP based IP phones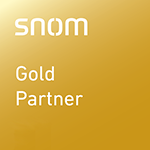 The Snom Service Provider scheme certifies that Voipfone is a competent provider of telephone services for snom hardware.
To win advanced accreditation, our network must not only fully conform to international SIP standards and perform basic VoIP functionality but also fully support advanced PBX functionality.
Features such as Call Transfer, Music on Hold, Voicemail, Busy Lamps and correct call handling and termination are required to work fully to meet this certification level.