What Is Call Fowarding
You can send your incoming calls to another telephone number anywhere, any time you like and as often as you like.
Many new businesses use this feature to divert their calls to their mobile or landline so that they don't have to ask BT for a new telephone line.
You don't need to buy any hardware to do this or even have a broadband connection - it's handled by our equipment, not yours.
We can do much more than this though you can set diverts to go to your voicemail when you're busy or if you're already on the phone talking to someone.
You can display which of your numbers was called and name them – it's up to you how flexible you want it to be.
How To Setup Voipfone Call Forwarding And Divert
You choose a number and it is held in our network. We then send all calls to that number to the number you have supplied – usually your mobile or landline. There is no delay; your caller doesn't know that your call is being diverted.
You can change the divert number anytime and as often as you like without cost. If you turn the divert off, your calls will go to Voicemail. Your voicemail is converted to a sound file and sent to your email or you can listen to it online (all free).
This Is What You Do
It's all online, there's no contract, and your number starts working instantly
1. Sign up for an account (it's free)
3. Put some money on your account – it's a pay-go, no contract service
4. Set the number you wish to divert to. You can divert to any number, anywhere
5. Try ringing the new number – not from the phone you have set the divert to go to
That's it, now anybody calling your new number will now ring your mobile (or whatever number you set).
To Use Line And Number Presentation
This is a feature of our virtual PBX, which allows you to display the called number instead of the calling number on you phone. This is useful if you have several companies - you can have a different number for each but still know how to answer your single phone – or just if you use the phone that your calls are being diverted to for social reasons as well as for business.
To Set This Up
1. Go to the Package Builder and buy an extension number for each of your new Voipfone numbers that you wish to display on your phone. They cost £1 per month.
2. Now go to Services, Virtual PBX, Inbound Numbers and select the line presentation settings for the numbers you wish see called and save the changes.
3. If you also put the name of the company into your mobile along with your new number, your phone will display it when called so you can answer 'good morning, xyz company'.
Got a question?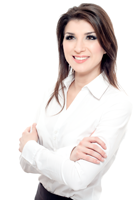 Speak to a Customer Services Representative
Voipfone can seem very confusing at first, but don't worry, this is quite normal and we are here to help! One of the great strengths of VoIP is that it can do so much more than an ordinary telephone network whilst costing an awful lot less. In practise Voipfone's services can be as simple as making a telephone call or as complicated as using a large business switchboard in several countries but anything new takes a bit of getting used to so if you have any questions please feel free to give us a call on 020 7043 5555