Starting A New Business
When you start a business you don't always start off renting a nice new office or shop complete with a telephone line and fax machine - lots of people start from home sitting at their kitchen table and trade from a website.
Your new web site needs something behind the 'Contact Us' tab. Customers expect to see a real address and telephone number not just an email address.
They want to know how to contact you and, often, you want them to call you too. Without proper contact details how can you expect people to really trust you – it makes you look amateur.(more…)
Voipfone for Business Customers

VoIP Internet Telephony is liberating businesses from expensive and inflexible communication services, in some cases saving thousands of pounds every year. Most businesses use Voipfone not just to cut down on their telecom bill but also to enable them to do things that were just impossible for them before.
Many small and medium businesses now have a broadband internet connection installed and it makes a lot of sense to get the most out of it.
With broadband in place, all calls between and within your offices can be free and customers can call you in the normal way.
So if you have offices in London, Edinburgh, Paris and New York, calls between and within them are are secure, reliable and cost nothing.
Not only that, but calls outside your network to any telephone anywhere in the world are charged at a much reduced rate than traditional telephony providers.
You can find out how much these calls cost by using our call cost calculator.
If you choose our Inclusive Minutes Packages, calls to UK landlines and UK mobiles can be made with significant discounts.
You also have access to all the features and functionality of a modern PBX switchboard at a tiny fraction of the price.
These are just some of the features included in all our services: Voicemail and Voicemail Email Alert, Incoming PSTN number, Calling Line ID, Call Transfer, Call Hold, Call Divert, 1471, 123, Call Waiting, Software Telephone, 3-Way Calls, Voipfone Setup Wizard, Multiple Lines, and free 24/7 Technical Support .
You can do all of this from your existing PC with our free softphone installed, with your existing telephone hardware (you just need one of our adapters for each phone) or you can invest in advanced new Internet Telephones.
If you would like to know more about our VoIP functions features and services, many of which are FREE please call our Customer Services team on 020 7043 5555.
Got a question?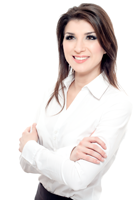 Speak to a Customer Services Representative
Voipfone can seem very confusing at first, but don't worry, this is quite normal and we are here to help! One of the great strengths of VoIP is that it can do so much more than an ordinary telephone network whilst costing an awful lot less. In practise Voipfone's services can be as simple as making a telephone call or as complicated as using a large business switchboard in several countries but anything new takes a bit of getting used to so if you have any questions please feel free to give us a call on 020 7043 5555