Voipfone Virtual PBX
Voipfone's Self Service Hosted PBX includes many useful features such as Call Queueing, PBX Call Groups, Virtual Switchboard IVR, PBX Extension Numbers, Unlimited Outbound Calls, Free SIP Trunks and many other useful features many of which are included for free.
Our IP phone services are suitable for an ordinary office, a virtual office or several offices in several locations and even your home. We think it's the most fully featured and best value UK VoIP service you'll find.

Telephone Adaptor Configuration Guides

All our telephones adapters are pre-configured with UK ring and dial tones, our own optimum network settings and your user account details – so you should be able to just plug them into your home or office network and and start making calls straight away.
Once installed, all our equipment is auto-provisioned; this means that we can remotely adjust its setting to keep it up to date or perform remote diagnosis and maintenance if required; this ensures that your hardware is running at its best all the time.
Linksys Adaptor Configuration Guide
Grandstream Handytone Configuration Guide
ATA-1100 Analogue Telephone Adaptor Configuration Guide
Sipura Telephone Adaptor Configuration Guide
Got a question?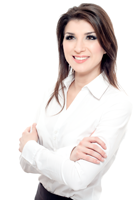 Speak to a Customer Services Representative
Voipfone can seem very confusing at first, but don't worry, this is quite normal and we are here to help! One of the great strengths of VoIP is that it can do so much more than an ordinary telephone network whilst costing an awful lot less. In practise Voipfone's services can be as simple as making a telephone call or as complicated as using a large business switchboard in several countries but anything new takes a bit of getting used to so if you have any questions please feel free to give us a call on 020 7043 5555