Call Barring
Unwanted calls from telesales and marketing organisations, fax machines or abusive individuals are becoming an increasing nuisance, but you can block them with Voipfone Call Barring.
It's particularly annoying if you get regularly called from anonymous, withheld and international numbers – once you're on their call list it seems impossible to get off.
Well we have a solution - our Call Barring service allows you to filter out telesales and nuisance calls automatically.
You can also prevent unwanted calls being made from your account by setting up an Outbound Call Barring policy, and applying it to your extensions.
To purchase Call Barring, please click on the button below.

How do I set up Call Barring?

Voipfone Call Barring works on both incoming and outgoing calls.
Inbound barring uses simple blacklists and whitelists, which are usually applied to the entire account, although individual extensions can be granted permission to manage their own additional blacklist and whitelist if desired.
Outbound barring is based on "Policies", which define a set of rules for blocking or allowing outbound calls. Policies can be applied to multiple extensions, allowing you to set the same rules for similar users without having to redefine them for each individual extension.
Inbound Call Barring
In your Control Panel, first navigate to the Inbound Settings page, where you will be able to block calls by various categories, such as those that are witholding their Caller ID. On this page you also define what you want callers to hear if their call is blocked.
Next, go to the Inbound Blacklist page, where you can block individual numbers, or whole number ranges by entering just the first few digits. For example, to block all calls from London numbers, simply add "020" to your blacklist. You also have the option to send selected blocked numbers to our 166 anti-sales service.
View a demo of 166 here, Or just dial 166 from your Voipfone service (the call is free).
Note the whitelist tab - if you want to make an exception and allow a particular number through, just add it here.
It's good practice to always enter a reason for blocking a number, as a reminder of why it is there.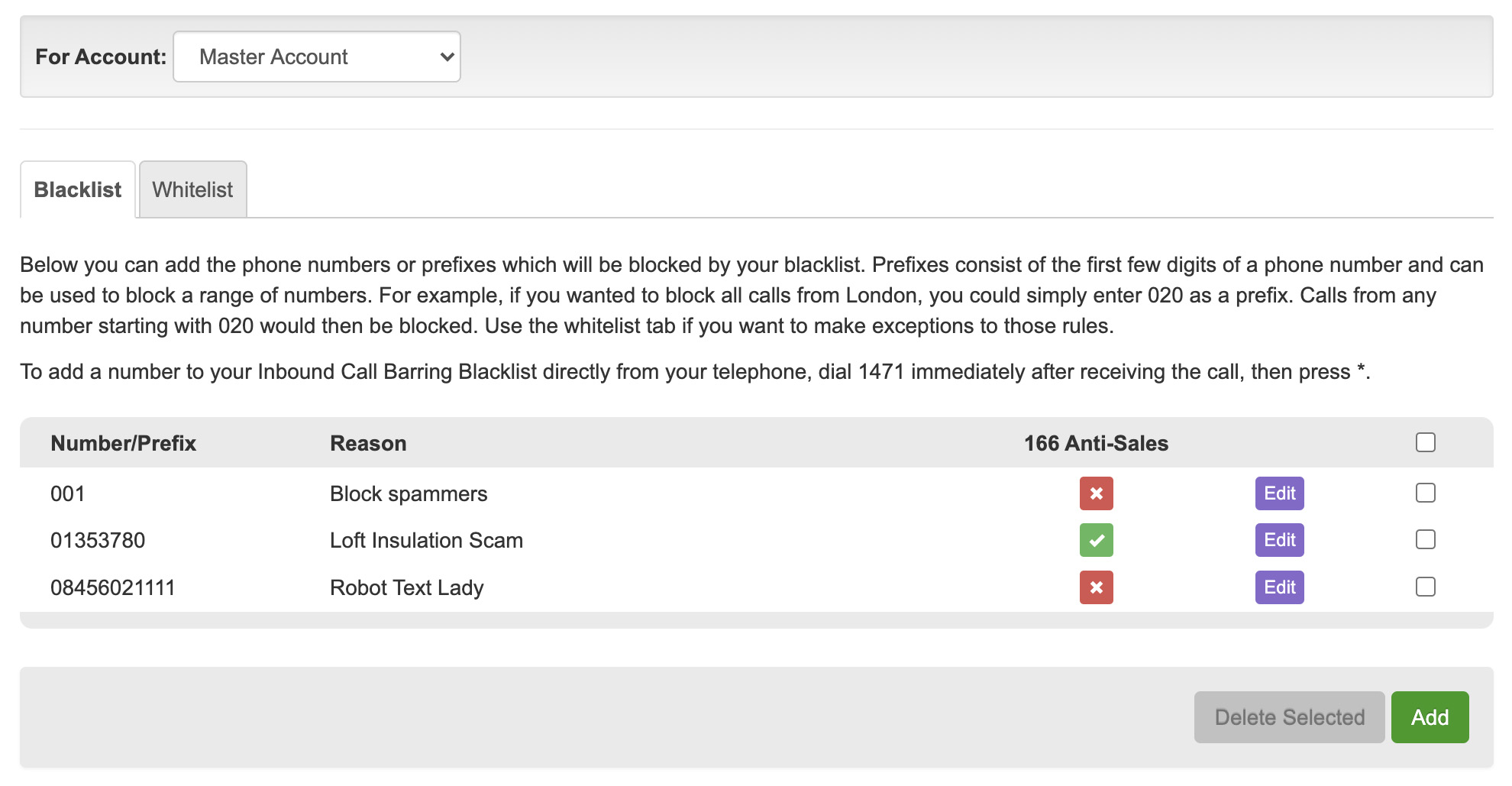 On the Inbound Permissions page, you can enable individual extensions to manage their own Inbound blacklist and whitelist. The master account blacklist and whitelist still apply, and are merged with the individual extension's lists when checking calls coming in to that extension.
Note also, that if an extension has Inbound blacklists enabled, any numbers added to the blacklist by calling 1471* after the call will be added to the extension's blacklist, rather than the master account blacklist.
Outbound Call Barring
Outbound Call barring is based on "policies". A policy consists of a blacklist and whitelist, with a name for identification, which is then applied to your chosen extensions. There is always one "Global" policy, which is applied to all extensions automatically.
Any additional policies that you assign to your extensions are merged with the Global policy and appled together. In this way you can create a basic set of blocked outbound calls, and then add additional barring for different groups of staff.
In your Control Panel, navigate to the Outbound Policies page, where you can edit the Global policy, or create new policies.
Each policy has some simple settings for blocking entire categories of calls:
All Outbound - block all outbound calls. Internal calls (calls to extensions on your own account) are not blocked.
International - block calls to all non-UK international numbers. Calls to the +44 UK country code are not blocked.
08xx - block calls to expensive non-geographic numbers such as 0843 and 0845. Calls to freephone 0800 and 0808 numbers are not blocked.
Mobiles - block calls to UK mobile numbers (numbers starting with 07)
If a category is blocked, it is shown with a red no-entry icon. The green tick icon means those calls will be allowed through.

The blacklists and whitelists for the policies can be found on the
Outbound Policy Blacklists
page, and work in the same way as the blacklists and whitelists for inbound call barring.
The Outbound Policy Blacklist page also includes a "Test" button, where you can see how your policies will be applied. Simply type in a phone number, and the test will report whether the call will be blocked, and by which policy.
Once you have created your policies, navigate to the
Outbound Policy Assignment
page, and choose which extensions your policies will apply to. You can assign more than one policy to an extension, and the Global policy is always applied.
Got a question?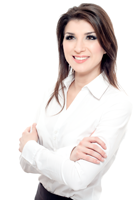 Speak to a Customer Services Representative
Voipfone can seem very confusing at first, but don't worry, this is quite normal and we are here to help! One of the great strengths of VoIP is that it can do so much more than an ordinary telephone network whilst costing an awful lot less. In practise Voipfone's services can be as simple as making a telephone call or as complicated as using a large business switchboard in several countries but anything new takes a bit of getting used to so if you have any questions please feel free to give us a call on 020 7043 5555